UNESCO Prize for the Use of Information and Communication Technologies in Education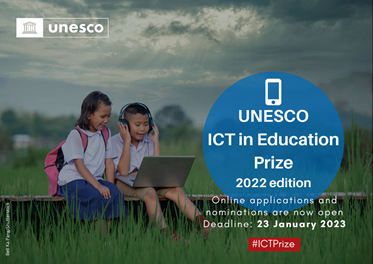 The 2022 edition of the UNESCO King Hamad Bin Isa Al-Khalifa Prize for the Use of Information and Communication Technologies in Education<
www.unesco.org/en/prizes/ict-education
> is accepting nominations. All nominations should be submitted via the online platform<
www.unesco.org/ict-ed-prize
> by 23 January 2023.
The theme of the 2022 edition is "The use of public platforms to ensure inclusive access to digital education content". It will reward projects that have made digital learning platforms and digital content more accessible, as well as those that have promoted universal connectivity in education and digital competencies for all teachers and learners. The 2022 theme is in line with the commitments made at the Transforming Education Summit, during which participating States reaffirmed that digital technologies should not widen but reduce learning gaps – and, to this end, it is essential to make digital resources available to all.
Two projects will be selected, and each laureate will receive USD 25,000 and international recognition during an award ceremony at the UNESCO Headquarters.
For more information on the eligibility criteria, submission, and nomination process, please see the brochure presenting the 2022 edition<unesdoc.unesco.org/ark:/48223/pf0000384032> and the related guidelines<www.unesco.org/sites/default/files/medias/fichiers/2022/11/ICT%20in%20education%20prize-2022-guidelines.pdf> or visit the Prize webpage<www.unesco.org/en/prizes/ict-education>.
Email: ictprize@unesco.org<mailto:ictprize@unesco.org>
[A picture containing text, outdoor, person, sign Description automatically generated]
—–
FRENCH
l'édition 2022 du Prix UNESCO Roi Hamad Bin Isa Al-Khalifa pour l'utilisation des technologies de l'information et de la communication dans l'éducation<www.unesco.org/fr/prizes/ict-education> est ouverte aux candidatures. Toutes les nominations doivent être soumises via la plate-forme en ligne<www.unesco.org/ict-ed-prize> avant le 23 janvier 2023.
Le thème de l'édition 2022 est « Les plates-formes publiques au service d'un accès inclusif aux contenus éducatifs numériques ». Seront récompensés des projets qui auront rendu les plates-formes d'apprentissage numérique et les contenus numériques plus accessibles, et qui auront promu la connectivité universelle dans les écoles, ainsi que les compétences numériques des enseignants comme des élèves. Le thème de 2022 est conforme aux engagements pris lors du Sommet sur la transformation de l'éducation, dans le cadre duquel les États participants ont rappelé qu'il était important que le numérique réduise les fractures éducatives et non l'inverse – et que pour ce faire, la mise à disposition pour tous des ressources numériques était essentielle.
Deux projets seront sélectionnés. Chaque lauréat recevra 25 000 dollars des États-Unis et une reconnaissance internationale lors d'une cérémonie de remise des prix au siège de l'UNESCO.
Pour de plus amples informations sur les critères d'éligibilité, le processus de candidature et de nomination, vous pouvez consulter la brochure présentation l'édition 2022<unesdoc.unesco.org/ark:/48223/pf0000384032_fre> et le guide de candidature<www.unesco.org/sites/default/files/medias/fichiers/2022/11/ICT%20in%20education%20prize-2022-guidelines-fr.pdf> ou visiter la page web du Prix<www.unesco.org/fr/prizes/ict-education>.
E-mail: ictprize@unesco.org<mailto:ictprize@unesco.org>
[A person wearing headphones Description automatically generated with low confidence]